Published: July, 22, 2012 (Published here)
Vivian Robertson believes details matter.
In the early morning hours before the California Mid-State Fair opened Wednesday, signs stacked atop the stone wall at the Main Grandstand entrance, cocktail tables missing from the grandstand skybox and dirt-packed tree planters bare of red woodchips immediately caught her eye.
"When it comes to that fairground, she knows everything. She walks with the electricians, she checks the landscaping — she's on the ground and she's hands-on," longtime fair board member Dee Lacey said.
As chief executive officer of the Paso Robles Event Center, a year-round operation that runs the 12-day fair and generated $9.7 million in 2011, Robertson is credited for numerous changes. Among them are refurbishing buildings and expanding the center's year-round operation with annual horse shows and conferences, as well as attracting big-name entertainers and ensuring that the fair remains one of the state's largest.
She's known for her leadership, dedication and personal approach.
"It's her heart. You can say it's about the details, that she's a fanatic about this or that. But when it comes down to it, the fair is just important to her," fair board member Mark Borjon said.
Robertson, 56, has been passionate about the fair since she first showed cattle there at age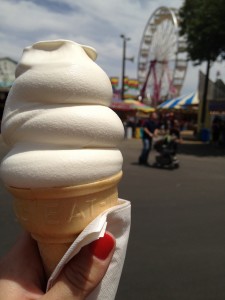 9 and spent countless hours on the grounds through the years with her mom, dad and four sisters. She wound up working summers as a livestock clerk during college and joined the staff full time as an office secretary upon her graduation in 1980.
Aside from college stints working for Cal Poly and two veterinarians in Los Osos and Paso Robles, it's the only workplace she has ever known.
"It runs in her veins," said JoAnn Switzer, the event center's livestock superintendent who has known Robertson since she was a young girl and has worked with her for 35 years.
"She sleeps and drinks this place, bless her heart. We all have a strong passion, and she sure does, too."
Boosting profitability
Those who know Robertson say her vast knowledge of the Event Center's operation has played a role in her success. Over the years, she moved from office secretary to accounting officer and assistant manager, ultimately becoming CEO in 2004. She's also held numerous supporting positions during the 12-day fair, including livestock secretary and later, livestock superintendent for 12 years.
"I feel like I can help my staff more so (now). I know the roles and responsibilities on each and every task because I've done them all," she said.
Today, she oversees about 25 annual employees — a staff that grows to about 500 employees during the fair.
Robertson and colleagues said various initiatives have kept the Event Center profitable enough to help support the fair. Among those is the advancement of its horse show division, attracting groups such as the National Stock Horse Association and the Pacific Coast Cutting Horse Association.
Six years ago, the center had 60 events, "and we have quadrupled it," Lacey said, noting that they mostly handled weddings before Robertson expanded to hosting everything from roller derbies to wine events and home shows.
"There isn't a weekend where there isn't an event. We stay in the black — we don't lose money," Lacey added.
Robertson said she's strived to continue efforts of previous Mid-State Fair leaders Maynard Potter, Robert Alkire, Judy King and John Alkire. The fair's fundraising arm, the Heritage Foundation, is also a key to progress, she said.
Among Robertson's most prized
accomplishments are beautifying the fairgrounds and continuing improvement projects, such as laying asphalt over much of the midway and remodeling a commercial building and the agriculture/fine arts pavilion.
Robertson opted to plant perennials on the grounds, instead of going with annuals during the fair. That way, the Event Center keeps its pops of color all year. That also means deciding what flowers look best and where — even if that means planting them herself.
Efficiency and function are also on her mind. About seven years ago, as CEO, she also changed the Junior Livestock Auction so that two auctions for hogs, lambs and steers run simultaneously by species instead of one extra-long sale that ran from 8 a.m. to midnight. Now the sale wraps up by 5 p.m., which helps tired buyers hold their bid prices longer.
In 2010, the Mid-State Fair for the first time received the Western Fair Association's highest honor, a Merrill Award, for its new Mission Square wine and kitchen area.
"We had been trying to win that award for so long. I was just in tears," Robertson said.
Although many projects have been moving forward, Robertson said parking has remained a challenge.
There are 700 parking spaces in the main lot but about 400,000 fair attendees annually. Because the fairgrounds is landlocked, she said, she's keeping an eye out for properties for expansion.
Efforts to diversify the center's events year-round paired with the continued push to attract big-name fair acts help to offset the state's declining financial support.
This year, the Event Center received nothing from the state, for example, whereas in previous years it received up to $50,000.
By comparison, some small county fairs have suffered financially and are considering mergers with neighboring county fairs as the state withdrew its financial support this year.
Since taking on the Event Center's top job in 2004, Robertson has grown its total annual income from $6.5 million that year to $9.7 million in 2011. That is largely because of attracting big-name acts such as Aerosmith in 2007 and 2010.
Her own annual salary is nearly $96,000 with the state's most recent pay cut.
Ranching is in her blood
Robertson, a petite woman with a big smile, has a deep appreciation for wide-open spaces and horses — she has 10 of her own.
Raised on a 4,000-acre cow-calf ranch in Indian Valley near San Miguel, Robertson said she enjoyed long days working on the land.
In a 1991 Tribune article, Robertson is photographed plopped down on hay in the middle of a cattle pen with Templeton's 4-H Club, talking to the kids as a livestock superintendent, a job she hated letting go.
"She's a country girl. She was raised at the fair," longtime rancher and industrial arts education superintendent Debbie Twisselman said.
Those who know Robertson well praise her attentiveness to detail and people skills. But they also note that she rarely takes time off and can be overprotective of the fair.
She can often be found picking up litter and planting new flowers throughout the grounds.
To that, Robertson said: "I don't think there's anything I do that's beneath me. I think you earn more respect from the staff if you're in the trenches with them. We're a family, and we're a team. If I had to clean the bathrooms, I would."
After three cups of coffee — she prefers it black — and about four hours of sleep, Robertson is typically the first person to arrive during the fair and the last one to leave, she said.
"I was a raised on a ranch where you go to bed with the chickens and get up with the chickens," she said. A mother of two adult sons — ages 20 and 26 — and the wife of a horse trainer, Robertson is still immersed in the country life.
Fair walk-through
On the morning that the fair opened, as Robertson checked out the fairgrounds with a reporter, she noted that she wants it "to be like you would have it at your home. I am very detailed and like things done right. And that's one thing where I drive my maintenance team crazy," she added with a laugh.
Robertson made sure to walk the grounds to check in with all her departments in person. She noticed a cobweb on a beam and swatted at it in between greeting countless people by name and always making sure to ask about employees' families before recapping any worries or benefits about the day's happenings.
Among them was Switzer, a longtime local cattlewoman who showed her own 4-H Club lamb at the first Mid-State Fair in 1946. She remembers Robertson as a youngster.
It's not uncommon for fair employees or volunteers to remain there for decades. As Robertson and Switzer illustrate, a fair job is one people tend to keep.
"I have made so many friends over the years, and it's just like a reunion come July," Robertson said. "In the 12 days of the fair, you're just constantly amped up and on the move. You just have to work in it to know how it feels. I look at people who jump around jobs and I'm like, 'Ugh, I don't know how they do it.'
"I love it here and couldn't imagine leaving."